I attended the LA fresco workshop with iLia. Eager to learn fresco with no prior knowledge of the history or process, iLia had a tall order to fill. And what a job of filling that order he did. I am sure he has a whole different view on what type of people live in North Dakota at this point.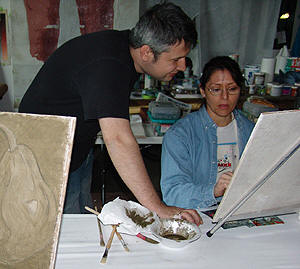 I started with an Internet inquiry of the class. iLia and I spent a considerable amount of time on the phone and writing emails before I decided to sign up. That in itself was a huge factor, his passion for frescos came shining thru brighter then ever. I asked a lot of questions in the 5 days, and I was always given a complete answer to my understanding.

We learned the art of making our plaster from Ian. His perfectionism was apparent and encouragement that we too would be able to "recreate" the process. Again, all my silly questions were answered with patience and understanding. Plastering is hard work, not to be rushed, to be prepared with a patient, tender application. Ian and iLia both helped us determine our plaster was ready for pouncing and pigments.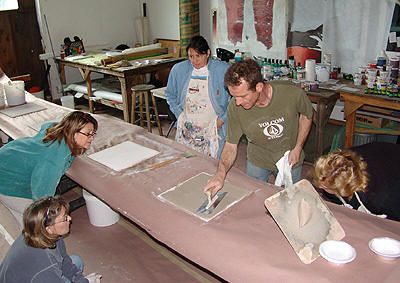 The smaller class allowed for a great deal of individual instruction. We learned it all. Starting with sifting sand, mixing lime with the sand, coating layers of plaster and learning the difference and importance of each layer. Attention to detail was at it's peak.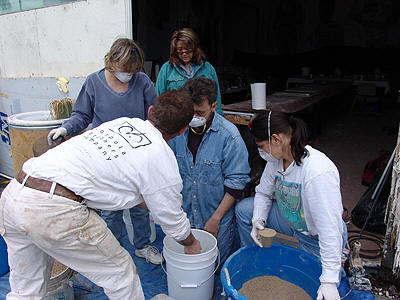 Next we were acquainted with the tools for grinding our pigments and the finer points of how to get the correct consistency in our pigments. Our cartoons were transferred to tracing paper and we poked our holes for pouncing our design on the wet plaster.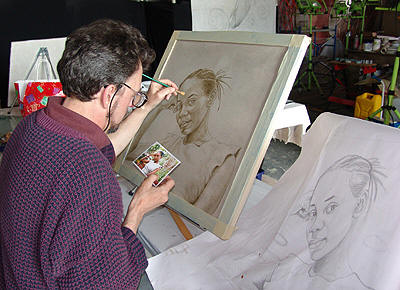 Painting the fresco started with the verdaccio and continued to the full color pigments. When it was dry... it was done! Ian was there with his trawl to show us how to repair any "plaster stabbing's" we may have accidentally inflicted.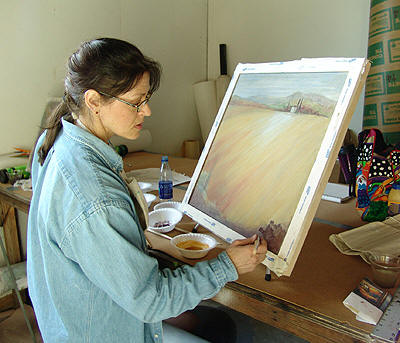 We were also shown how to splice two days works together, techniques to apply fresco to both panels and walls. We were introduced to Nathan Zakheim whom did answer questions on restoration.


All in all it was a very good workshop, and as in the good governor's line.... "I'll be back".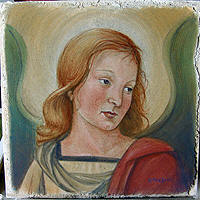 Karen Bakke
Fargo, ND
| | |
| --- | --- |
| | Karen Bakke attended "Classic 5-Day Professional Fresco Workshop" |