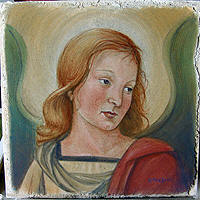 by Karen Bakke
I attended the LA fresco workshop with iLia. Eager to learn fresco with no prior knowledge of the history or process, iLia had a tall order to fill. And what a job of filling that order he did. I am sure he has a whole different view on what type of people live in North Dakota at this point.


I started with an Internet inquiry of the class. iLia and I spent a considerable amount of time on the phone and writing emails before I decided to sign up. That in itself was a huge factor, his passion for frescos came shining thru brighter then ever. I asked a lot of questions in the 5 days, and I was always given a complete answer to my understanding...

---

6-day Professional Fresco Private Class Review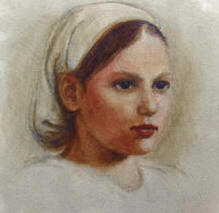 by Ed Kayton
"Life begins at the edge of your comfort zone" is a phrase from the "Conversation with God" books. As an oil painter of 24 years experience, I am comfortable using a layered oil painting technique that I developed over the years. My recent fresco class with Ilia and Ian took me out of my comfort zone in oils and thrust me into the uncomfortable realm of a new medium.

Fresco is more closely related to the watercolor technique than it is to oils. Lighter tones are applied first, gradually building up to the darks, whereas in my oil technique, darks are laid in early, with lights built on top of the darks, in impasto. As a result of my embedded perceptions from oil painting, my first fresco attempt was humbling...

---
Video Interviews with our former students
Please proceed to our original "Nationwide Fresco Painting Workshop Program for video interviews (new window).

---