iLia Anossov (fresco)
Fresco artist iLia Anossov (fresco) is one of the very few artists in the world who are considered masters of the art of fresco painting. His knowledge of the techniques of this most difficult, important, yet endangered art form is sought out by his contemporaries at great art institutes and museums.
iLia has been widely exhibited in Russia, Europe and the United States including 7 Museum Exhibitions and over 50 Solo and Group exhibitions around the World. Commissions include large-scale frescoes and murals in private homes as well as public areas. His internationally featured Malibu Fresco project appeared on the covers of premier magazines including Architectural Digest (AD) USA, AD Germany, AD Italy, House & Garden UK.
For information on how to commission iLia Anossov, please Contact iLia Directly.
---
Ian Hardwick
Ian Hardwick - "Olde School" English Craftsman who brings 25 years of experience in plastering trade to our workshops.
Ian is known and sought for by artists and plastering companies from Coast to Coast. He prepared and applied plaster for numerous large scale and hundreds of smaller frescoes as well as led highly skilled plastering teams on lucrative Venetian stucco, marmorino and other authentic plaster finishes projects for plastering companies across the US and abroad.
---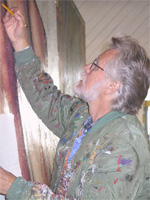 Kent Twitchell
As one of the most respected and recognized outdoor urban muralists in the world, Kent Twitchell, MFA 1977, doesn't have to promote his mural ideas to potential clients, the clients come to him.
This prolific artist has completed over 75 portraits of prominent artists and celebrities and completed one of his largest commissions - nine-story portrait of the entire Los Angeles Chamber Orchestra - which towers over the Los Angeles Harbor Freeway. His other projects include the Freeway Lady, the Julius Irving Monument in Philadelphia, the LA Marathon Mural in Inglewood, a portrait of artist Ed Ruscha in Los Angeles and the Holy Trinity with the Virgin at the former Otis Campus. Anyone traveling around Los Angeles can hardly miss the mark Kent has made on the urban landscape.
---
Elisabetta Covizzi Perfetti
Elisabetta Covizzi Perfetti trained as an art conservator in Florence, Italy.

She began working in the fresco conservation field in 1991 for Restauri Formica, one of the most prominent conservation labs in northern Italy. In 1995, she also began working as a private conservator and consultant for art collectors and dealers.
In the course of her career, she has worked extensively in various cathedrals, mansions, castles and private residences both in Italy and France, focusing on fresco and plaster conservation.

Elisabetta has taught several introductory fresco classes in high schools in Italy, inspiring several students to pursue a career in fresco conservation.

In 2008 she joined forces with Restauri Sanluca, a Milano based conservation lab with which she still collaborates today.
---